Manchester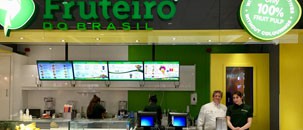 Mon-Fri: 10am to 8pm
Sat: 10am to 7pm
Sun: 10am to 6pm
Juice Bar Fruteiro do Brasil

Manchester M4 1AZ, Regno Unito
Fruteiro do Brasil has just opened in Manchester's main shopping center, the Arndale Center.
With over 42 million visits a year, the Arndale Center is a protagonist among the shopping malls of UK's Northwest.
Here, in a few square meters, Fruteiro do Brasil unfolds a full assortment of preparations made of the best tropical fruits: Smoothies, Açaí Bowl, artisanal gelato / sorbet and mixes of yoghurt and fruit pulp.
How to reach us
The Juice Bar